I was long time back that I get a chance to use Woopra but I did not use it since I was already using Google Analytics and reinvigorate for my site. I started testing it since last week and impressed it. Woopra, a site analytics tool got good review as soon as it was released as private beta. Woopra does everything like site analytics tools do but it has additional features that you can't find in other analytics tools.
Like analytics tool, you need to signup. After you signed up you can add your web site in your account. It will take some time to approve your website in Woopra. Once your site is approved you can get the code in your account. All you need to do is to add the code in your site. If you're using WordPress for your site, they have wordpress plugin as well. You need to download Woopra program in your computer to check the site's stats. Woopra program is available in Windows, Mac and Linux as well.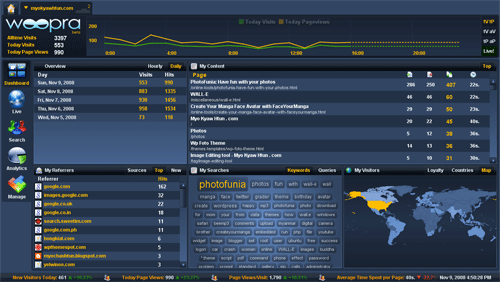 Once you have Woopra installed in your computer, you can login with Woopra account. It has all features like site analytics tools have as I said before. But one of the coolest thing from Woopra is Live tracking feature that you can see the online visitors currently visiting on your site and you know where they came from and which page they are currently visiting and how long. Another thing I like is real time stats updating from Woopra so that you can know how many visitors your site has in every seconds.
I can't go very detail over this Woopra because this post would be long one. After using it, Woopra is one of the collect site analytics packages I have ever used. Why not? try it out for yourself!