I collect 11 web sites that includes communities to show you who want to learn web design and want to know you how they design their web site and how those web sites are pretty look good , simple and attractive. Actually, I'm not web designer but I'm very interested in making web design , especially how they structure their web site ? how they use color in their web site and how to make attractive logos.

ThinkVitamin.com is a brand new online magazine dedicated to that new web industry. Vitamin will inspire you, teach you, advise you and sometimes test you with its in-depth features, audio interviews, training sessions and reviews. It's updated every week, and it's free! So whether you just want to get dirty with the code or plan to topple Google with your next cunning web app idea, Vitamin is your new best friend.

Cwd.dk is not just a design gallery site for a lot of web designers but it also contains articles, tutorials and beneficial data related to the web designing and development industry. This being no simple task, cwd.dk is managed by an enterprising group of young web designers and developers. They contribute in the way of articles, tutorials, writing dynamic modules, selecting best web site designs , making it a user friendly surfing experience for you. A lot of time and energy is invested into this research to present you with useful facts and figures on web designing.

CSSMania.com is a collection web design submitted by web site owner and site designers. You can also submit your web sites or you designed web sites written in XHTML/CSS with an appealing design. Now there are more than 5700 web sites in CSSMania. They also make awards and give prizes for web developers who design the awarded web sites according to their rules.

CSSVault.com is also useful for designer and developer. They just picked up many of web design css articles in their resources page. You can submit your web site or a site that you think is very useful for everyone. They'll put your web site link after your site have been reviewed. But I haven't seen any award in CSSVault.

CSS Beauty is a project focused on providing its audience with a database of well designed CSS based websites from around the world. Its purpose is to showcase designers' work and to act as a small portal to the CSS design community.

DesignShack.co.uk showcases over 515 examples of great CSS, standards based design to help inspire and create. We feature any website which shows off some flair, and doesn't fit into the standard pattern we've come to expect. You can submit your site by email :
mailto : [email protected]

subject : Submit My Site body

email address : [email protected] [your email address]

url link: http://www.something.com [your web site url link]
They'll upload your site screen snapshot and categorized in their site after they've approved your site.

The Open Design Community (TODC) is a group of Open Source Website Designers providing free web design templates helping to make the global internet a prettier place. Their goal is to create a community owned and managed site, where users can share their free website designs and templates, discuss web design, and promote their services.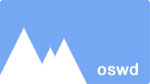 Open Source Web Design is a collection of web designs submitted by the community that anyone can download free of charge! Their goal is to help people who want their site from personal blog to Conent Management System good looking and well organized.

Open Web Design is a community of designers and site owners sharing free web design templates as well as web design information. Helping to make the internet a prettier place! You can check out useful information in their FAQ. You can submit your design with full source but need to register first.

OnePixelArmy.com is just a wordpress blog but you can submit your web site link and It links to CSSMania.com, CSSVault.com , CSSBeauty.com, theFWA.com, BestWebGallery.com and many other web design sites.
You'll want to design your web site or logo for your web site after visiting those sites. You'll use fonts such as Times New Roman , Arial, or something that comes with your OS ? I don't think you'll use. So that, I've collected these two font sites where you can feel free download fonts.

UrbanFonts.com has collection of free fonts and free dingbats on the web. With over 8,000 freeware fonts and millions of downloads so far, you've come to the right place to download fonts.

You can download free fonts at creamundo.com. It has over 9800 of free fonts.
p.s: this post was migrated from my old blog.