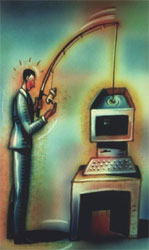 I received an email in last week, was telling me that I must change my Paypal login information or my account will be suspended. I was so surprised that I never got the email like this from Paypal before. So I logged to my paypal from my Firefox bookmarks and checked whether my account has been suspended or not. It seems normal and I can use my account in Paypal.
I ignored the instructions in that email and forward the email to the Paypal support team. They replied me that It is a phising email. Yep, the link they included in the email points to the following site not the paypal page.
<a href="http://201.160.34.201.cable.dyn.cableonline.com.mx/logn.php">http://www.paypal.com/cgi-bin/webscr?cmd=_login-run</a>
I visited that link lately and Firefox alerted me that It is phising site. Scary!!!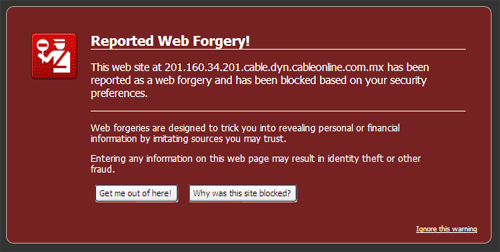 Phishing email
Subject: Your account has been violated !!!
From: PayPal Security Measures ([email protected])
Dear valued PayPal member,

It has come to our attention that your PayPal account information needs to be updated as part of our continuing commitment to protect your account and to reduce the instance of fraud on our website. If you could please take 5-10 minutes out of your online experience and update your personal records you will not run into any future problems with the online service.

However, failure to update your records will result in account suspension. Please update your records on or before September 29, 2008.

Once you have updated your account records, your PayPal session will not be interrupted and will continue as normal.

To update your PayPal records click on the following link:
http://www.paypal.com/cgi-bin/webscr?cmd=_login-run

Thank You.
PayPal Update Team
Security Tips from Paypal
Here i quoted the Security tips from paypal team.
Never give your password to anyone, even to Paypal employees.
Don't click on any link in an email which seems suspicious to you.
Always log in directly at https://www.paypal.com
When using the PayPal service, always ensure that the URL address listed at the top of the browser is https://www.paypal.com/. The "s" ensures that the website is secure. Even if the URL contains the word "PayPal", it may not be a PayPal webpage. Look for the "lock" symbol that appears in the lower right hand corner of the browser. This symbol indicates that it is a secure site.
Check is there any unauthorized transactions in your account. If you have, please report it to us.
Thanks much Paypal Team.
Photo credit: ciphergiest