After submitting 11 web sites for web designer post in StumbleUpon On 9th July, 2007, now my Mybloglog status shows that I'm getting a lot of visitors came across from StumbleUpon.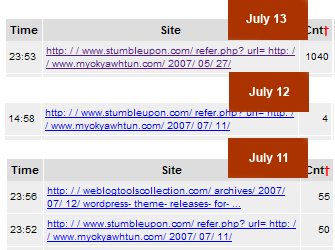 I still remembered that once I tried to submit this post with the title name of "Web design and communities" to digg and some other bookmarking services and no one is interested to save it again. But when I changed it to "11 web sites for web designer", I got a lot of traffic from digg and many save it for me. Now, I realized that
nowadays people are more likely to share and save list articles in social bookmarking sites.
p.s: 12 other stumblers (updated: 13th July, 2007) also submitted that post in StumbleUpon as I noticed. And also I'll never try to do like this in future in order to get traffic.