Su.pr is a new URL shortening service developed by Stumbleupon that allows you to post your Blog post and message  Twitter and Facebook via your WordPress. Su.pr has a feature that update automatically to Twitter and Facebook whenever you publish new blog post.
Su.pr has customization options allow you to customize posting to Twitter or use the default setting. If you check on the first option "Post to Twitter", you will see extra option in New/Edit post page. Another great feature from Su.pr is that you can use url shortening with your own domain name. (example: http://yourdomain.com/abxr instead of http://su.pr/abxr).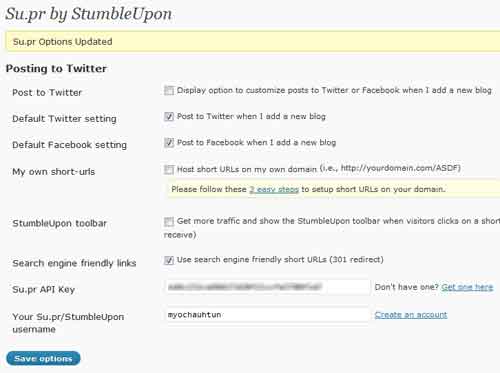 Currently Su.pr is in invite beta but you can sign up by using invite code "suprbeta". API key is required to use for your wordpress plugin. You can find API key in setting page.