Microsoft has released Internet Explorer 8 beta 1 for developers and designers. I've just installed on my machine and just start using it. And tried to know the features (Activities, WebSlices, Favorites Bar, Automatic Crash Recovery and Improved Phishing Filter) implemented in Internet Explorer 8 beta version. You can download IE 8 beta versions from here. I'm not sure whether IE 8 needs WGA validation or not.
First notice from this verions is that highlighted domain in address bar area.

Passed Acid2 Test
Yes. it passed the Acid2 test, A web standards project for browsers.
Emulation Mode
Emulation mode in IE8 can switch back to previous Internet Explorer installed on your machine.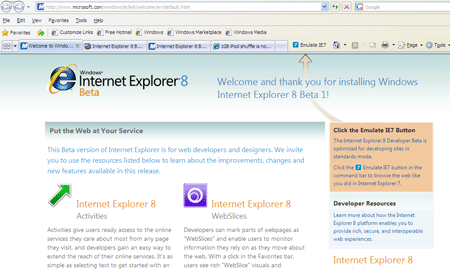 Build-in developer tools to fight Firefox's Firebug ?
Internet Explorer 8 included a very promising tool called Developer tool which is just like Firebug development add-ons in Mozilla Firefox, for web developer and designer to check xhtml, javascript and css coding without having to switch between browser and development tool. Change Compatibility Mode in Developer tool makes easier for developers to check the look of the explorer versions of Internet 5, 7 and 8. So where is 6 ?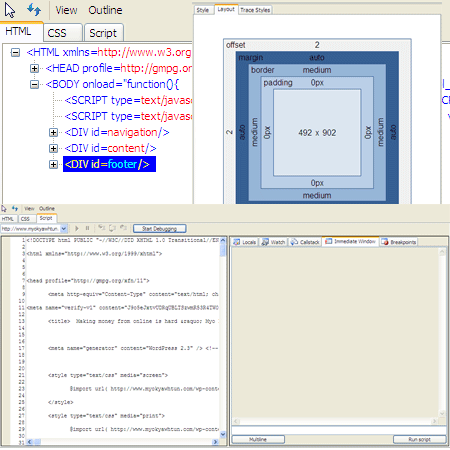 Activities
Internet Explorer 8 adds activities include Windows Live translation, Sent with Windows Live Hotmail, Map with Live Maps, Define with Encarta and Blog with Windows Live spaces. All are from Windows Live and msn. You can add activities like eBay, Facebook, StumbleUpon, Yahoo! and MSNBC from here. Seriously, here is a sample of Windows (dead) Live maps, one of the activities from IE8. Hey! Microsoft, you can search my place in Google maps !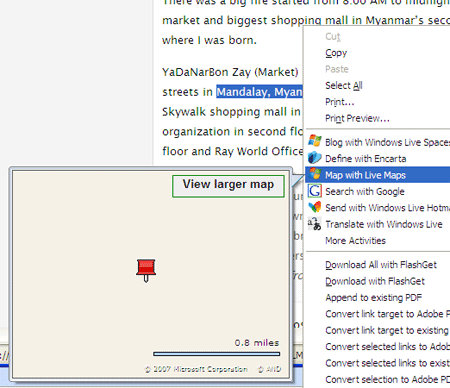 See all the Internet Explorer 8 beta features