Update 21
80,000 died? :(
An aid official in Burma says the death toll from Cyclone Nargis may be 80,000 or more.

Kyi Minn is health adviser for World Vision in Burma and he says that on top of the 22,000 the military regime has admitted have died, there are another 60,000 missing – presumed dead.
Update 20
More than 62,000 died without Hine Gyee Island death count. (Independent News UK, Bangkok Post )

(confirmed)
Update 19
WASHINGTON, May 6 (Xinhua) — U.S. Navy ships are standing by off Thailand awaiting permission to join relief efforts in cyclone-hit Myanmar, the Pentagon said Tuesday.

"But that's all we can do at this point, is to plan, because we have not received a request from the Burmese (Myanmar's) government," Pentagon spokesman Geoff Morrell said.

The U.S. Navy ships that are ready to leave for Myanmar include the USS Essex, an amphibious assault ship that carries 23 helicopters, three landing craft, and a contingent of 1,800 marines, the Pentagon said.

The nearest U.S. navy ships to Myanmar were reportedly a four-and-a-half-day sail away taking part in an exercise in waters in the Gulf of Thailand.
Update 18
Google created a page where you can support victims of the Nargis cyclone in our country, Myanmar (Burma). You can donate to either UNICEF or relief by using Google Checkout.
To help visualize the damage, there are Google Earth layers showing an animation of the cyclone's path (using satellite imagery from the Naval Research Laboratory) and the extent of the flooding using data from the UN Institute for Training and Research Operational Satellite Applications Programme (UNOSAT). We'll keep posting information to the Lat-Long Blog as more data comes available.

There are also several Google Grants non-profits working to provide relief to those affected. Save the Children currently has a 500-person staff in the area, while Oxfam America has committed $800,000 to help NGOs meet the immediate needs of people. World Vision and Doctors Without Borders are also taking action with two of the most vulnerable populations in the crisis: children and the injured.

Helping victims of Cyclone Nargis (Official Google blog)
Update 17
Foreign aid workers in Burma have concluded that as many as 50,000 people died in Saturday's cyclone, and two to three million are homeless, in a disaster on a scale comparable with the 2004 Indian Ocean tsunami.

"We are looking at 50,000 dead and millions homeless," Andrew Kirkwood, country director of the British charity Save The Children, told The Times.

Aid workers fear Burma cyclone deaths will top 50,000 (Times Online)
THE DEATH TOLL: Of the 22,000 dead so far, as many as 21,793 were from the Irrawaddy delta. Another 40,695 of the 41,000 missing also came from the delta.

A look at Myanmar's Irrawaddy Delta, hit hardest by Cyclone Nargis (Herald Tribune)
Update 16
The Myanmar military regime says at least 22,000 people were killed and the U.N. estimates up to a million left homeless by the catastrophic cyclone that has battered the country.
Update 15
YANGON, May 6 (Xinhua) — Water supply has started to resume in some areas of Myanmar's biggest city of Yangon since Monday night after the city's electricity-run water works, hit by a recent deadly cyclonic storm, re-operated with the installation of a high-wattage generator, the state newspaper New Light of Myanmar confirmed Tuesday.

An initial of some six main townships such as Kyauktada, Botataung, Pabedan, Pazundaung, Lanmadaw and Mingala Taungnyunt have got supplied with water again after urgent installation of the 1,375-kilovolt-ampere (KVA) generator, the report said.

Each household can tap the water sources at their respective inlet points of their houses. However, water still cannot be pumped up to tanks erected atop buildings as electricity supply keeps failing to operate water pumps.
Update 14
30,000 missing in Myanmar Cyclone? (confirmed, Washington Post)
BANGKOK, May 6 (Reuters) – Thirty thousand people are missing in Myanmar after this weekend's devastating cyclone, in addition to a death toll of 15,000, Thai Foreign Minister Noppadol Pattama said after a meeting with Myanmar's ambassador to Bangkok.

Ambassador Ye Win refused to answer questions from reporters at the Thai Foreign Ministry, leaving Noppadon to summarise his report on the disaster. (Reporting by Nopporn Wong-Anan; Writing by Ed Cropley; Editing by Jerry Norton)
The German government is to provide 500,000 euros (around 775,000 U.S. dollars) to the people of Myanmar hit by the recent cyclone, German Foreign Ministry announced in Berlin Monday.
London (PTI): The European Commission has announced emergency relief of two million euros for victims of Cyclone Nargis that struck Myanmar over the weekend as the official death toll crossed 10,000.

The funds, managed by the EC's Humanitarian Aid Department, are being mobilised rapidly to help meet the basic needs of survivors in the disaster zone.

Louis Michel, the European Commissioner for Development and Humanitarian Aid, said: "With every hour that passes, the news coming out of Myanmar gets grimmer and grimmer. This is a terrible catastrophe that demands a quick and effective humanitarian response."

The current EU Presidency held by Slovenia expressed sincere condolences to the people of Myanmar for the devastation and loss of life.

Myanmar's Foreign Minister Nyan Win had yesterday said that his nation would welcome international aid to meet the gigantic challenges posed by the natural disaster.

European Commission announces 2 mn euros for Nargis victims (The Hindu news service)
Update 13
The death toll from the Myanmar cyclone is more than 15,000 people, Myanmar's government has said, with at least 10,000 killed in the township of Bogalay alone, according to the Chinese state-run news agency Xinhua.

Myanmar: Death toll more than 15,000 (CNN)
Update 12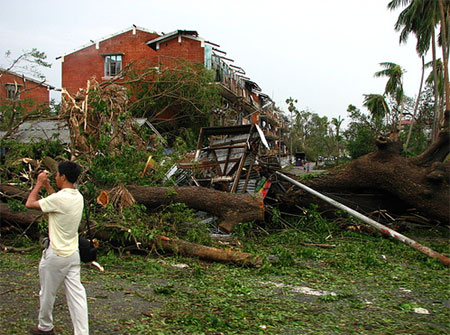 Photos: Myanmar Nargis Cyclone (197 photos from Flickr)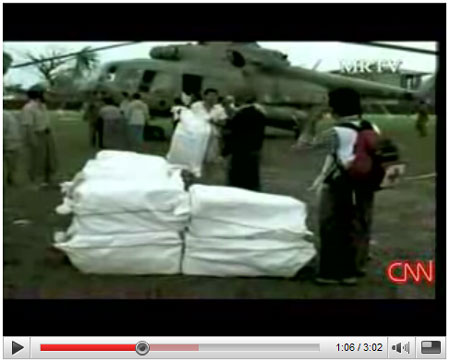 aid supply footage video in YouTube
Update 11
India on Monday despatched two naval ships carrying food and medical supplies to Myanmar, where 13,000 people are feared dead after cyclone 'Nargis' hit on Saturday.

The cyclone has left thousands of people homeless in Yangon and the Irrawaddy delta. According to sources, more than 3,000 people are also missing.
Australia is set to join the international effort to help Burma recover from the devastation of the weekend cyclone.

Aust gets green light to help cyclone-ravaged Burma (via ThanZin @twitter)
Update 10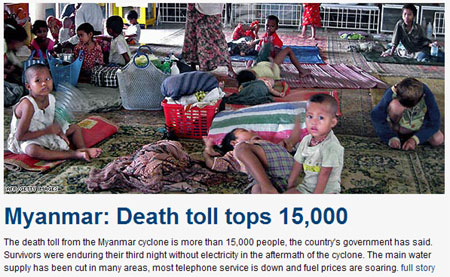 The death toll from the Myanmar cyclone is more than 15,000 people, the country's government has said. Survivors were enduring their third night without electricity in the aftermath of the cyclone. The main water supply has been cut in many areas, most telephone service is down and fuel prices are soaring.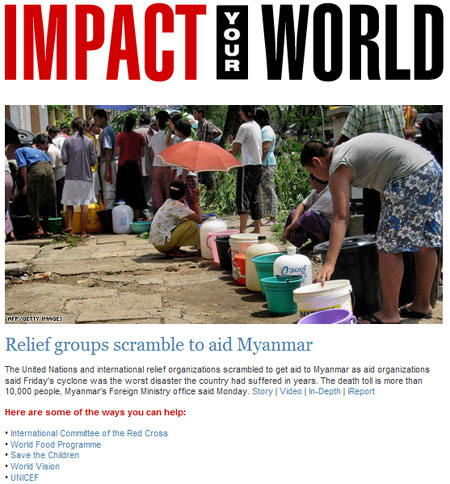 some of the ways you can help: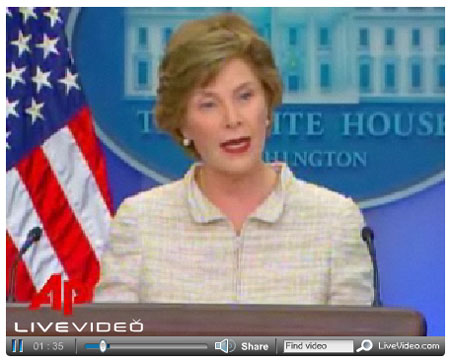 In a rare White House press conference, US first lady Laura Bush today urged the Burmese government to accept foreign aid after the devastating weekend cyclone while chastising the regime for not informing its people of the impending disaster.

Laura Bush urges Burma to accept US aid (Guardian)
Update 9
The death toll in Burma has reached nearly 4,000 people following a cyclone that hit the country on Saturday, state media says. It says 3,969 people have been killed and almost 3,000 more missing. Earlier on Monday, state media said the death toll was more than 351.
Update 8
More than 10,000 people were killed in a devastating cyclone that hit western Burma on Saturday, Foreign Minister Nyan Win has said on state TV.
Update 7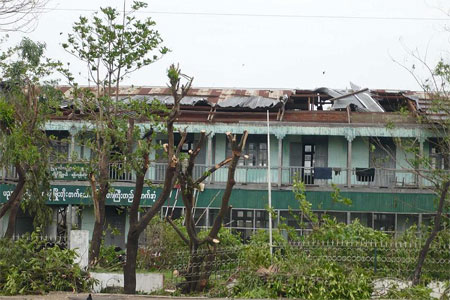 Update 6
The reporter sent me this message via Facebook.
Subject: website comment/correction

just to clarify, i never reported that myanmar rejected the offer. at the time of that story, they had not yet accepted it. there's a big difference, i don't know why the anchor from News 5 paraphrased it this way but would really appreciate if you would fix it on your blog. there is so much misinformation about the situation, i don't want to add more!

i noticed you are from myanmar, i hope you and your family are doing alright and have managed to avoid all of the terribleness in the country right now.

best,

suzy nam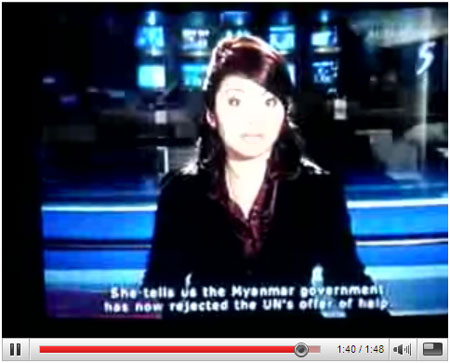 The UN has also offered assistance to the military governemnt, but its have yet to respond. They are said to be holding meetings to assess the situation and to coordinate relief operations.

Meanwhile information coming out of Myanmar remains sketchy. Just a short while ago, we got this update from Channel News Asia's Suzanne Nam in neighbouring Thailand. She tells us the Myanmar government has now rejected the UN's offer of help.

Nargis Cyclone news from YouTube (Channel 5)
This information is not clear yet whether the reporter, Suzanne Nam, said is coming out from government official or not.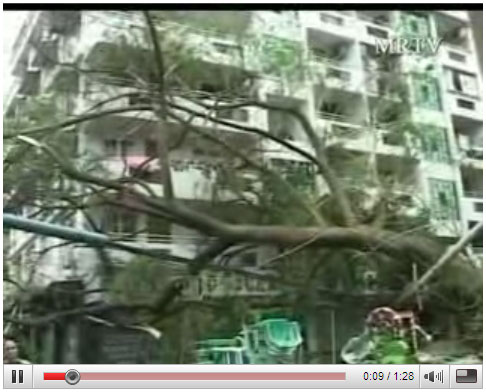 MRTV, state run television, report video broadcasted by Reuters in Youtube.
Update 5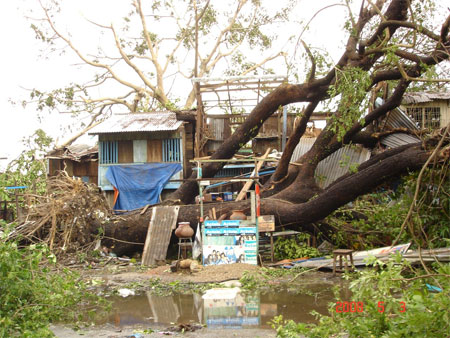 Update 4
Update 3
State television said at least 351 people were killed, including 109 who lived on Haing Gyi island off the country's southwest coast. Many of the others died in the low-lying Irrawaddy delta. In the Irrawaddy's Labutta township, 75 percent of the buildings had collapsed, state television said.

Cyclone kills at least 351 in Myanmar, state-run TV reports (Washington Post)
About 20,000 homes have been destroyed and 90,000 people made homeless on the island alone, a government official said.
Update 2
Update 1
Sites and Blogs to get the news about Nargis
News Site
Blogs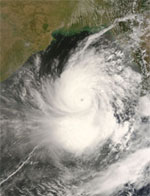 Nargis cyclone with the winds of 190km/h (120mph) trashes Yangon, Myanmar's largest city, former capital of Myanmar on late Friday.
The storm brought down trees and power lines, and tore the roofs from buildings, eyewitnesses in Rangoon say. Telecommunications have been disrupted.
But there is no official reports of deaths, damages because telephone and internet connections has been cut out.
From the news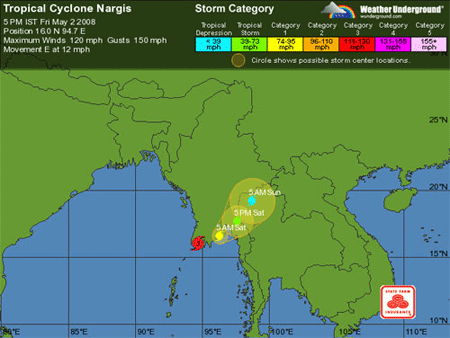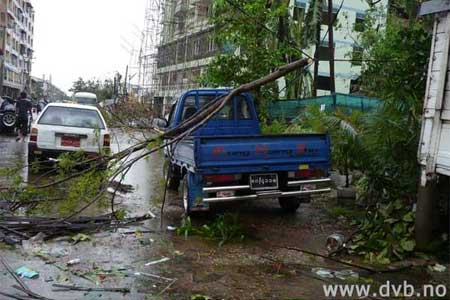 photo credit: NASA, WUnderground and DVB
Donation
Dear all,

You might have heard the devastating news about Burma being hit by the Nargis cyclone. According to the most recent news, the death toll has reached to about 15,000 and many remain unaccounted for. The delta is the worst hit region, and according to some sources, some villages have been wiped out entirely.
1. Sayardaw U San Naw Bar Tha
Bank Name: Barclays
Account Holder Name: Mr A Candobhasa
Sortcode: 20-80-71
AccountNo: 9000 2836
Contact Info: 0787 7297 205, email: [email protected]
More Info: http://ko-htike.blogspot.com/
2. Burmese Student Organisation UK
Bank Name: HSBC
Account Holder Name: Burmese Student Organisation UK
Sortcode: 40-01-13
AccountNo: 4154 6694
Ref: CDA-[your mobile number]
Last Day: 10th May, 2008
Contact Info: Ko Win T – 0785 2175 467, Ko Chan N – 0780 4725 077
More info: http://www.bsouk.org/
3. Miss Tharaphi Than
Bank Name: Barclays
Account Holder Name: Miss M T Than
Sortcode: 20-89-15
AccountNo: 6055 2232
OR please send a check to
Miss Tharaphi Than
SEAsia Department
SOAS, University of London
London
WC1H 0XG
Last Day: She is going to Burma for providing First Aid Support in next three or four days
Google's Myanmar Cyclone donation page
Donation posts