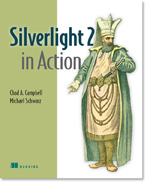 Michael Sync is running a writing contest for Silverlight 2 developers in his blog. He'll give away 5 copy of Silverlight 2 in Action ebooks and $300 for contest winners ($200 for 1st and $100 for 2nd).
How to Enter
Write a great article about Silverlight 2-beta2.
No matter where you are, you can participate in this contest
Submit your article before 25th of July 2008. (Please be sure to include a author bio with your submission.)
You can submit as many Silverlight 2 (beta2) related articles as you want
Your article should include screenshots( .jpg or gif) and code samples
You can send your article (in pdf or MS Word format) and demo (zip) to "mchlsync AT gmail DOT com"
Please encourage all people you know to participate in this contest. Because we need at least 3 participants for this contest. Otherwise, our contest will be failed.