Windows live writer doesn't have an option to change the default language where you're living to other language in setting. When I download Live writer from Thailand, it gives me this url which is Thai version. I don't see any option to select the language in download page.
During setup, I requested my friend to install it because setup is also in Thai language so I did not understand. After I installed, I see all the menus and setting are in Thai language.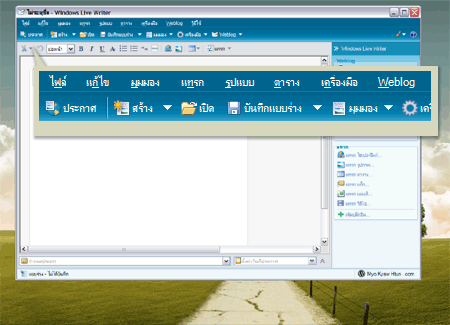 So, I decided to look in Writer installation folder and then I found a file WindowsLive.Writer.Localization.resources.dll, under 'th' folder. What I did is that I moved the 'th' folder to upper lever. I re-run the Live writer again and lt shows only in English.
To reset to English language in Live writer
Go to c:\program files\Windows Live\Writer\
Find the abbreviation of your language ('th' for Thai language)
Move that folder to somewhere else (I prefer moving instead of deleting, at least you can recover it back).
Run Windows Live Writer again.
You'll see the Windows Live Writer in English language.