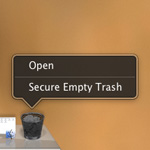 Deleting files will go to Trash in Mac OS and you click Empty Trash to delete the files completely. For some reason, these files and data can be recovered from some utilities.
If you really want to delete the files permanently, just use the "secure empty trash". To use "secure empty trash", right click on Trash (if you enabled, right-click) or Click and hold on Trash icon, it will pop up the menu. Press Command key, then you'll see "Secure Empty Trash" instead of regular "Empty Trash" menu.
Clicking on "Secure Empty Trash" will bring another dialog which will ask you whether you want to delete the data or not because it will completely erase the deleted files and will be gone forever.