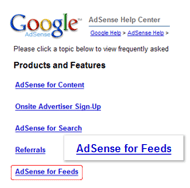 I'm just curious after I saw Adsense for Feeds in Adsense's Products and Features in Google Adsense Help. So what is Adsense for Feeds ?
AdSense for feeds works the way the rest of the AdSense program works, delivering ads that are so relevant to the content that readers find them useful. And when people click on these ads, Google pays you.

Please be aware that our beta test of AdSense for feeds is full and we are not accepting applications at this time. …
If you're interested now, just practice the following ways they said the best practices for publishers participating in Adsense for Feeds program.
Syndicate the full text of your articles
Don't include more than one ad unit per article
Place the ad unit at the end of articles
Include terms and conditions on the use of your feeds.
I did not hear any news for Feedvertising program for Google Adsense since Google acquired FeedBurner. I hope it will be launched soon!