In my last post, I explained how to install Apache, php and mysql on windows using Appserv. Now I'll explain how to install wordpress.
Download WordPress
First, download the zip from wordpress Download page. http://www.wordpress.org/download/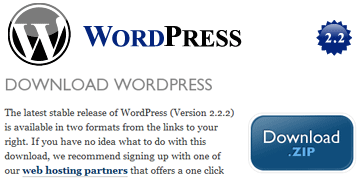 Then create a folder and named it wordpress or weblog whatever under c:\appserv\www. Unzip the file which you download from wordpress site, into that folder. WordPress folder contains wp-admin, wp-content, wp-includes and many other php files.

Creating database for wordpress
Type the address http://localhost/phpmyadmin/ in browser. You'll see phpMyAdmin database administration panel.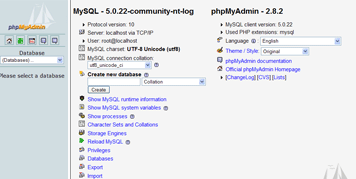 Create a database name "wordpress" or whatever. This database will be used in WordPress installation.

Installing WordPress
Now it's time to install wordpress, type http://localhost/wordpress in your browser.
I use wordpress because i created a wordpress folder under c:\appserv\www. You have to use your folder name
You'll see wordpress installation page. Click 'create a wp-config.php file through a web interface'.

You'll never see this page after wordpress has been successfully installed.
Click Let's go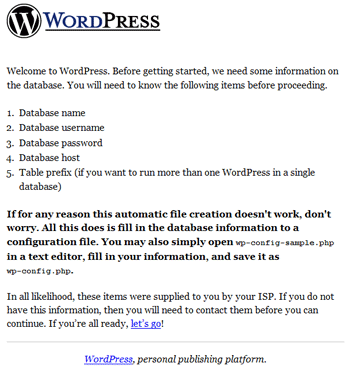 Click 'Submit'.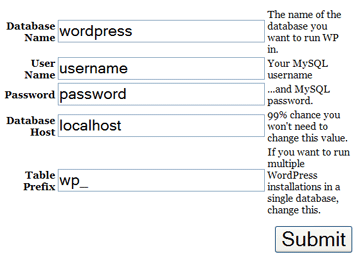 Before you click '
Submit
' be sure to check database name which you created in phpMyAdmin see above step '
Creating Database
'. Normally, database user name is '
root
' and password that you set in
Appserv installation
. Database host, just leave it if you're testing in your machine.
Click 'run the install'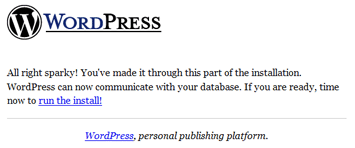 Click 'First Step'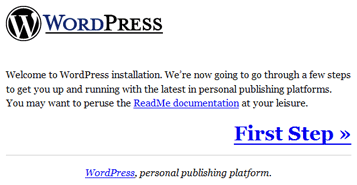 Click Continue to Second Step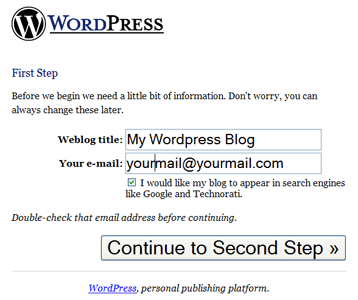 Installation finished
This is a final state of wordpress installation. WordPress installation will give you a username and it' password. Mark it down!!!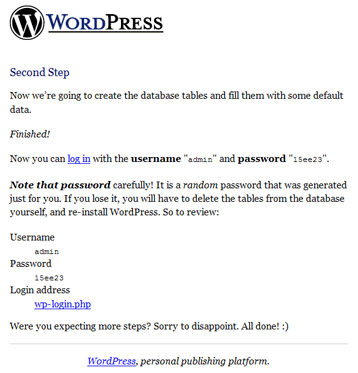 WordPress generate a random password. If you forgot it, you have to delete the wordpress table, need to install. So be careful.
Now, you can login to your very first wordpress blog. Click wp-login.php. Next time, use this address. http://localhost/[wordpress folder]/wp-login.php