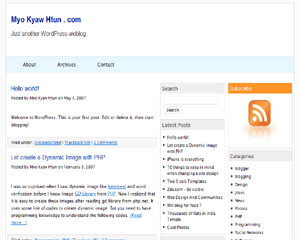 Now, it's features are :
Three Columns
Page links show in Navigation
Two Columns when viewing in single post
Can get Printable version on each post (I've put extra print.css for printing, well work in both IE and Firefox. But I did not test for Safari yet)
Can set different color in Sidebar headers
Alternative color in comments
Excerpt posts for Archive, Category and Search
Archives.php (use for Page) includes list of Month, Year and Category
Kolorful Theme
.Zip includes manual help file
Updated : I've uploaded this theme in wordpress theme directory.
Suggestions or questions about this template ? Please leave a comment.
2nd Updated : For widget compatible,
Kolorful Theme (Widget Ready)
.Zip includes manual help file
Donation
If you think that this kolorful WordPress Theme is very useful for your blog, you can make a small donation which will boost me to create more themes in future.

(more…)